MediaTek is a fabless chip maker from China that has quickly grown to become one of the largest providers of silicon for the booming Asian phone industry, but with a confusing naming scheme, it's hard to make sense of the countless chips that MediaTek is offering. With more and more first-tier smartphone makers like HTC and Sony adopting MediaTek chips in their phones, it's worth keeping tabs on this company that makes extremely affordable and competitive SoCs.
Before we dive into MediaTek's roadmap, here is a quick overview of the scale of MediaTek's business so far:
the company has $6.76 billion of revenue (NT$213 billion) for 2014
it achieved a gross margin of 47.9%
its Q4 after-tax profit stood at $329.72 million (NT$10.4 billion), up 20.8 percent on the year
Q4 revenue amounted to $1.76 billion (NT$55.4 billion), up 39.3% year-on-year
Currently, MediaTek uses TSMC for the production of its chips, and with production of 16nm FinFETs in Q3 2015, we expect no less than a full-blown top-end Snapdragon competitor from China in 2016, but even this year, MediaTek is looking very competitive with its portfolio. With no further ado, let's make some sense of the obscure four-digit names of MediaTek chips.
2015 chips: MT6595 (high-end) | MT6752 (mid-range) | MT6732 (low-end)
Last-generation, 2014 (slower, still on sale): MT6592 (high-end) | MT6582 (mid-range) | MT6572 (low-end)
Upcoming chips: MT6795 (top-end) | MT6753 (mid-range) | MT6735 (affordable)
Past chips (still available on some phones): MT6589 (high-end) | MT6589T (high-end) | MT6577 (low-end) | MT6592 (mid-range) | MT6517 (low-end)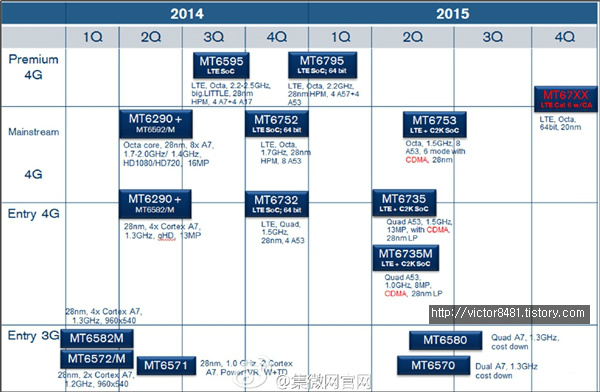 ---
WRITTEN BY
빅터크룸


머 먹고 사냐.....
---